2012 Minnesota State Fair homebrew competition results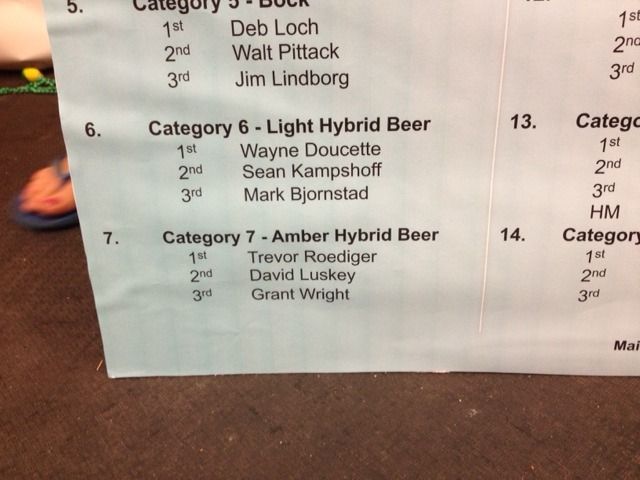 Today I hit up the State Fair with the wife, kiddo and friends to check out the best-in-show judging for the 2012 Minnesota State Fair homebrew competition. 680+ entries submitted by 350+ brewers, making it one of the largest annual homebrew competitions in Minnesota. My California Common placed 3rd in category 7 – amber hybrid beer. This is the same beer that got me first place in the <6% ABV competition put on by my homebrew club in June, the Nordeast Brewers Alliance.
Speaking of the NBA, I was one of five club members that placed in the 2012 State Fair competition:
Category 7 – Amber hybrid: 3rd place, Grant Wright
Category 13 – Stout: 2nd place, Nathan O'brien
Catgory 15 – German wheat and rye: 3rd place, Davis Kessler
Category 16 – Belgian and French ale: 3rd place, Tom Burtyk
Category 17 – Sour ale: 1st place, Tom Burtyk
Category 19 – Strong ale: 2nd place, Tyler Bye
In addition to the California Common, I'd also entered a maibock, scotch ale and a rauchbier. I'm interested to see what my scores were for those when we receive scoresheets in the coming days.
You can find all the winners of the 2012 State Fair homebrew competition in this picture below:
I'm really proud of how my club represented, especially given the relatively small size of our club. The judging was inside the agriculture/horticulture building this year instead of outside by the creative arts building, which was awesome because it was raining today but very crowded with lots of people buying local brews at the nearby MN craft brewers guild taps. There was a nearby presentation space in the building that would have been PERFECT for the judging but was instead being utilized by an old man talking about dirt. Not kidding. Maybe next year we kick out the dirt presentation and take over the space???
Best-in-show judging of the 2012 MN State Fair homebrew competition was done by Summit Brewer Mike Lundell (Unchained series brewer responsible for their RyePA and Black Ale), Pour Decisions Brewing's Kris England and J.J. Taylor rep Justin Dexheimer Joe Falkowski.
Way too crowded in here (but dry!):