Darkness Day 2012 at Surly Brewing Co.
For the third year in a row, I woke up super early on a Saturday to go stand in line  at Darkness Day, Surly Brewing Co.'s annual release of their Russian imperial stout seasonal offering. In 2010, friends and I arrived in line at 7:45am and were about half way through those who received one of the 1,500 wristbands available, giving us the right to purchase up to six bottles each of Darkness at $18 per bottle. In 2011, we arrived at 7:15am and were right in front of the last group in line to receive wristbands. Freaky!
This year, me and some guys from my homebrew club got in line at 5:15am to ensure that, with all Surly's exponential growth and popularity over the past year, we'd be one of the lucky 1,500 people to receive wristbands. We were successful! I can't be completely sure, but it seemed like based on how many wristbands Omar had left when walking by that we were 3/4ths of the way to the end of the line. We probably could have arrived around 6:00am and been ok, but that's still super early anyway, so I'm glad we didn't push our luck. Definitely colder this year (30 degrees) than in years past, though Darkness Day was also a week later this year, so that didn't help with the temperature. Plenty of campfires going in line.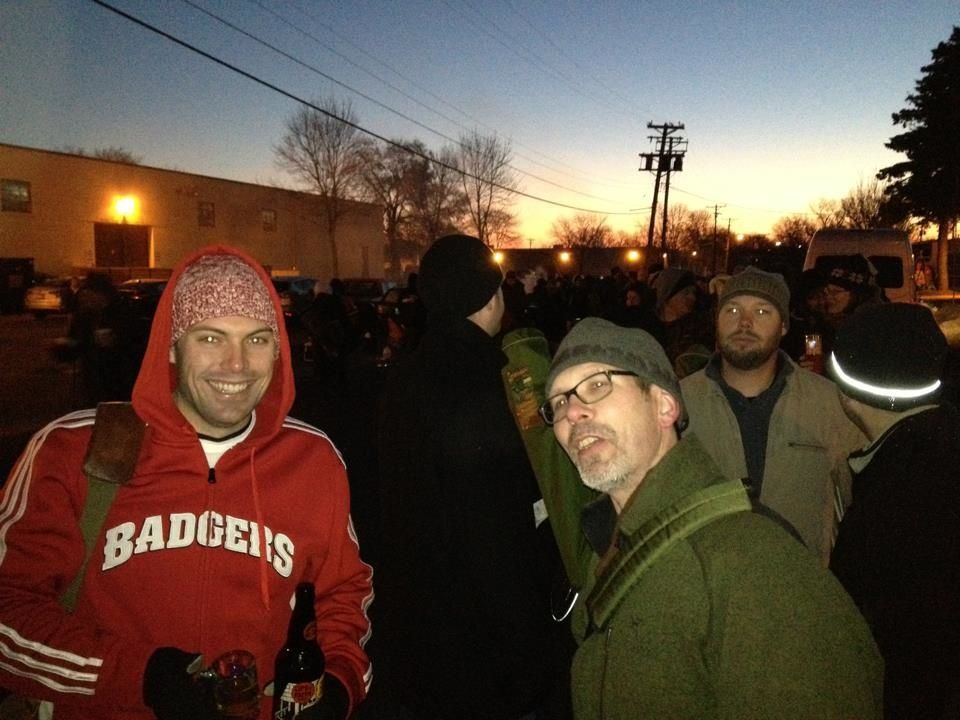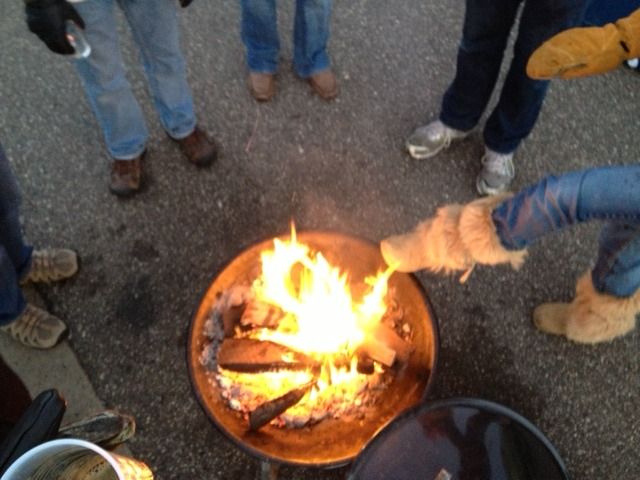 Wristbands had assigned times printed on them, something new for this year. Our time was 2:30 and having actually received the wristbands at about 9:00am, we decided to go out to breakfast instead of hanging around. We'd already had enough to drink for one morning while in line.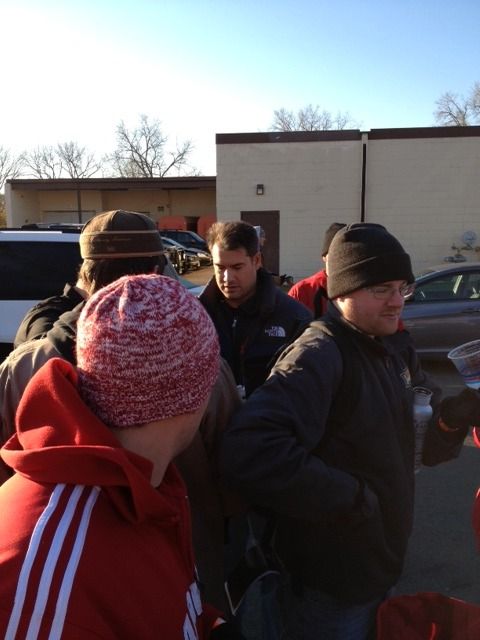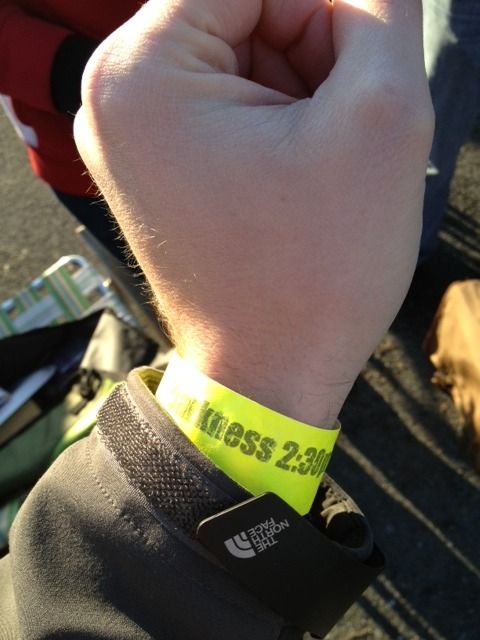 After breakfast, we all split up to go grab some sleep. When I got back, I was still so tired (had been up late brewing the night before) that I couldn't really bring myself to stick around for the music but I did manage to try their Brett Liquor, a hoppy pale ale partially fermented with brettanomyces. Let me tell ya, a strong hop presence and brett DO NOT go well together in a beer. It was like a hint of funk on top of their Bandwagon pale ale, like they dumped some Bandwagon in brett barrels for a week and then put it on tap. Neither a good pale ale nor a good brett beer. Oh well, it was a gamble.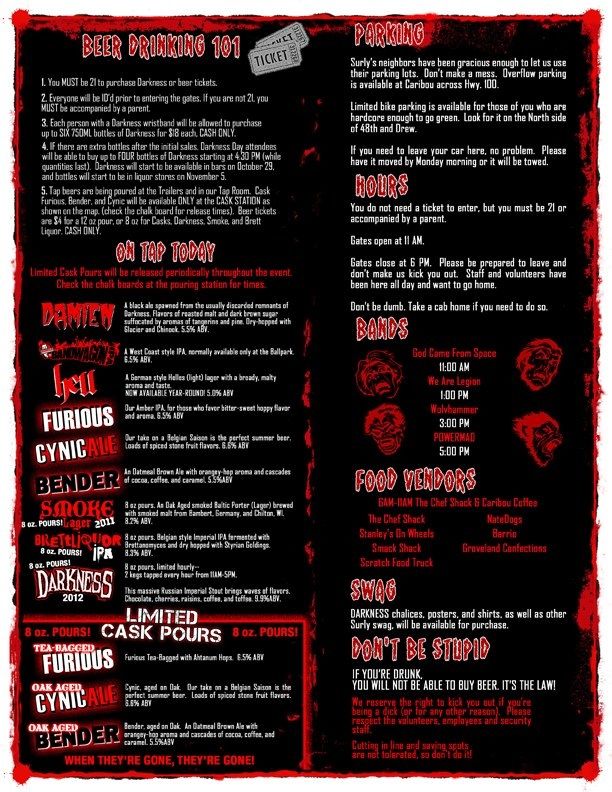 Many more food trucks were there this year! I suppose that makes sense with the whole food truck craze. Last year I think there were maybe two trucks, maybe just one in 2010. This year? At least eight. Man, this event is getting huge!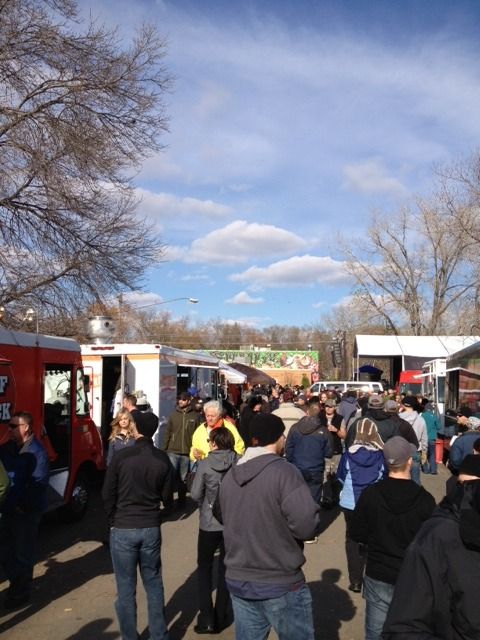 Rumor has it this year's Darkness wasn't aged nearly as long as previous years and is thinner and more one-dimensional as a result. I'm going to make a point to drink one of my bottles young this year as a point of reference, as I actually didn't drink any of my 2011 bottles until we were in line this year! It was very viscus and raison-y, by the way.
The brewery has been packed full of fermenters since I was inside a year ago. I wonder if they're planning on moving some of these to their new facility whenever that opens… it's tight in there. Spooky lighting and fog!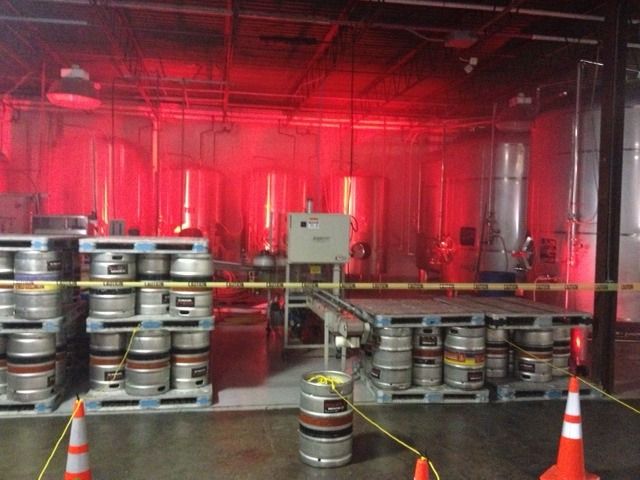 I saw lots of pics on Facebook after I got home from the event. Looks like the crowd was excellent for head brewer Todd's band Powermad. The stage was much more impressive this year. Check it out: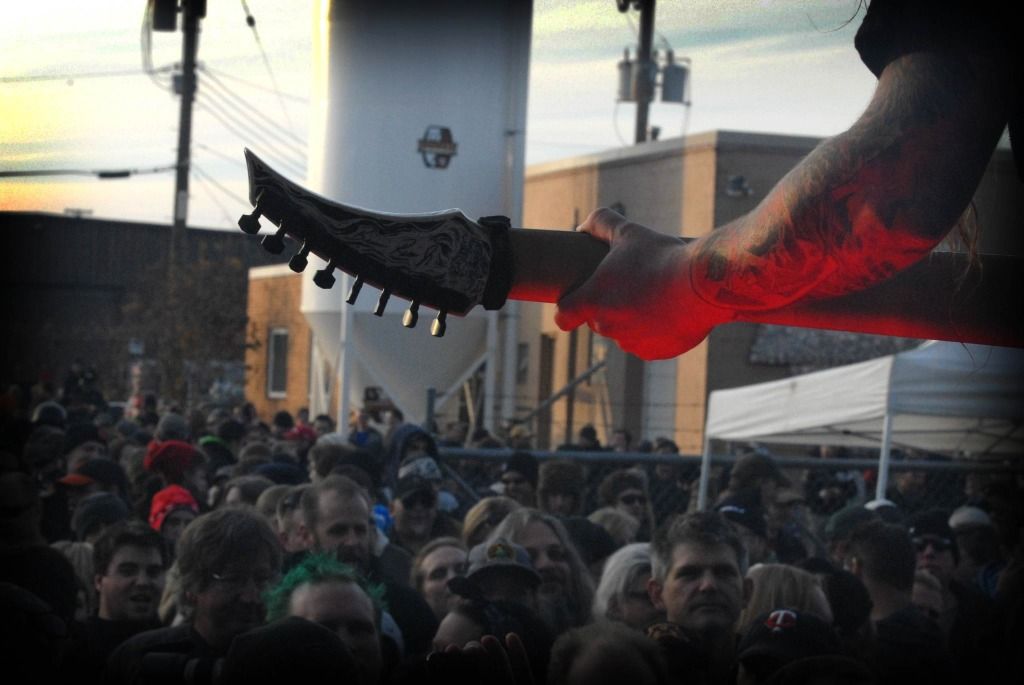 Photo credits: Todd Haug, Jon Godfredson